Kerberos Vault
Connect you video surveillance landscape to your own storage. Integrate and build custom apps
Download For Free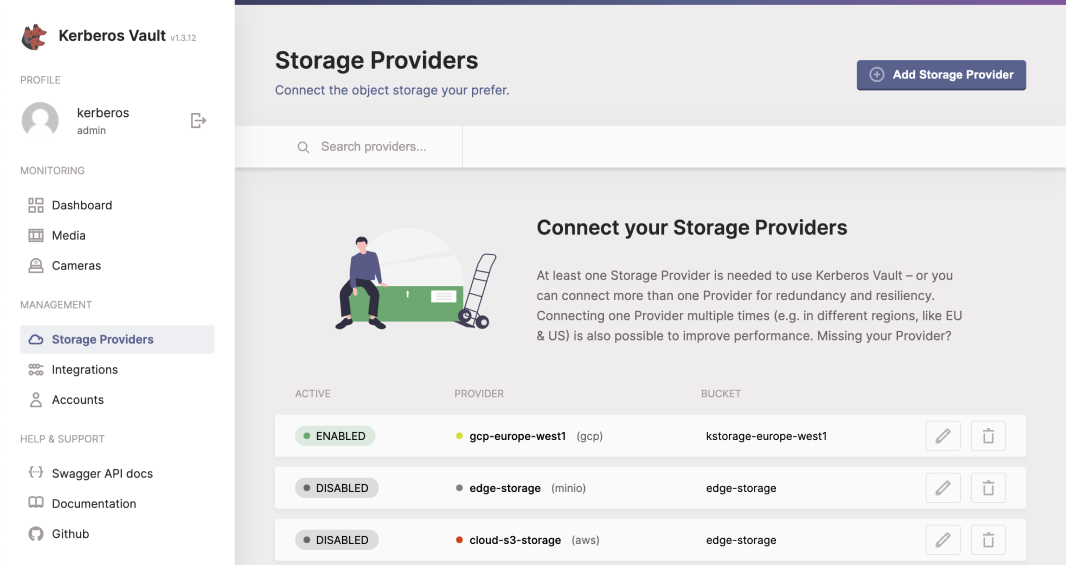 Bring your own Storage

Be the sole owner of your data in any circumstance
Integrate and Extend

Build custom apps, integration with exisisting solutions
On demand

Forward your storage from on prem to cloud when you want
Bring the storage your love
Change your storage on the fly, be 100% agnostic
Kerberos Vault connects to the storage provider you love the most. When needed you can swap your storage on the fly. Next to that you can connect Keberos Vault to your own workflows. Build new apps, integrate solutions, build machine learning pipelines.
Bring your own cloud
Bring the storage that you want, and have full control
As an enterprise, one thing you don't want, is to host your video surveillance recordings on someone else's cloud. You need to bring your own storage, being it on premise using Minio or in the cloud AWS S3, GCP Storage, etc.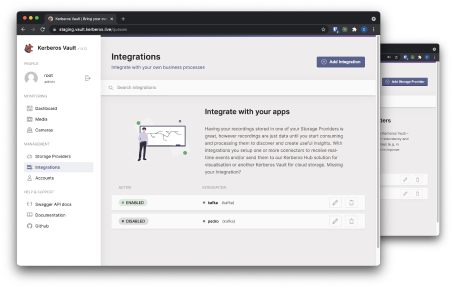 Extend and integrate applications
Having a stand alone solution doesn't make any sense
Kerberos Vault ships Swagger API's and integrates with message brokers such as Kafka and SQS. This allows you to leverage the power and scalability of Kubernetes enterprise, but build your own mobile, web or enterprise apps.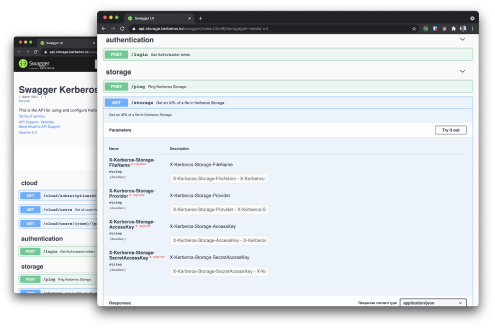 Build new business models
We got your back, all industry best practices in a single platform
Develop custom apps

By leveraring the Kerberos Vault API and connecting to message brokers such as Kafka. You can infuse the data from Kerberos Vault into your own customised applications. No limitations.
Integrate own solutions

You can spread events into your IT landscape and/or use integration platforms such as Dell Boomi, IBM CIP, SAP CPI, Mulesoft and many more.
Connect ML pipelines

Bring Kerberos Enterprise and Kerberos Vault in the middle of your ML landscape. By connecting to Kerberos Vault, you can start processing all your video recordings in realtime.
From edge to cloud

Keep the irrelevant recordings at the edge and only forward the ones to the cloud, which are of interest. Chain multiple Kerberos Vaults and synchronise them only when needed.
Multi location

It's a best-practice to store your recordings close to the region they belong to. While growing your video landscape across the globe, latency becomes more and more important.
Pricing
Per instance per month
| | |
| --- | --- |
| 1—10 clusters | € 249 / month |
| 11—50 clusters | € 149 / month |
| 51+ clusters | € 49 / month |
Ready to give Kerberos Vault a spin?
Download now and get up and running in a few minutes
Extend and integrate for most features
Supercharge and scale your experience with any of these Kerberos products
record

Kerberos Agent

Start small and experience

Scale cameras with Kubernetes

High availability and Fail over

Distributed and loadbalanced
analyze

Kerberos Hub

Camera monitoring and inventory

Recording and livestreaming

Grouping and fine grained access

Tasks and notifications
Kerberos.io FAQ
Frequently asked questions
Questions & answers
hub

Where is my data hosted if i'm using the Kerberos Hub public edition?

When connecting one or of your cameras to the Kerberos Hub, your recordings will be stored in a GCP datacenter, Cloud Storage, in Europe (St. Ghislain, Belgium).

In future releases it will be possible to select a region of interest.
enterprise

Is Kerberos Enterprise licensed?

No Kerberos Enterprise is not a licensed product, you can install it free of charge, and start experimenting with it into your surveillance landscape.
Is Kerberos only limited to video surveillance?

No Kerberos Enterprise is used in many video analytics scenarios, where it acts as a scalable video platform. Kerberos Enterprise is deployed in different sites, is monitoring the different cameras and persisting recordings.

After having those recordings are stored, those are analysed in real-time by video analytics solutions and algorithms. Kerberos Enterprise helps in having a scalable and error prone video landscape backbone.
Can I install the Kerberos Enterprise suite in my own datacenter / at the edge / on premise?

Yes, that's one of our design principles, every solution we are and will develop in the future can be self-hosted wherever you want.

We are shipping Docker images for all our solutions, and recommend to use Kubernetes to deploy and maintain them.
vault

Kerberos Vault is priced per cluster what does this mean?

Kerberos Vault is installed in a Kubernetes cluster, and for every additional cluster you are setting up Kerberos Vault, you will need an additional license.

The reason why you might need additional Kerberos Vault's is because of edge processing. You might want to store your recordings locally, and process them. After detecting a hit, you can forward the recording to a centrally hosted Kerberos Vault.
Open source

Can I use Kerberos Open source completely free of charge?

Yes, of course! We want to give back to the community, and we will keep working and improving this.
Roadmap

Can I influence the development of the Kerberos.io services?

Yes you can, both our Open Source and Enterprise suite products are continuiously extended with new features. You can

check the roadmap

for more details.
Hub

Can I install Kerberos Hub in my own datacenter and whitelabel it?

Yes, Kerberos Hub can be installed anywhere where you want. We have a helm chart available for you to install the entire Kerberos Hub solution.

Please note that you will need to request a license to be able to download the appropriate docker images.
Hub

Can I integrate my own machine learning models into Kerberos Hub?

Yes, next to storing your recordings with Kerberos Vault you can also use it to integrate with custom machine learning pipelines.

Imagine, you have cameras making recordings and persisting them in your preferred storage with Kerberos Vault. Everytime a recording comes in, Kerberos Vault will fire an event (Kafka, SQS, etc) which can be consumed by a subscribed machine learning pipeline.

After the machine learning pipeline did its magic, it will have generated some metadata that then can be forwarded in the Kerberos Hub queue.
Hub

What is the Kerberos Hub Queue about?

The Kerberos Hub comes with a bunch of microservices for pre and post processing the recordings. To streamline these microservices we have implemented Kerberos Hub queue.

This queue, which relies on Kafka, allows our customers to scale, have high availability in place and most importantly implement custom code and functions.

You could perfectly add a post processing, call an API, or whatever you have in mind. Extensions and both integrations to any system are possible.
Hub

Can I update the Kerberos Hub layout?

The Kerberos Hub is closed source, so you will only received the binary and Docker image when purchasing a license. However we might include or co-develop Angular components or features together and include that in the Kerberos Hub UI.

Features might also be scheduled in our roadmap, which are then and planned and executed depending on the customer requests and priorities.
Enterprise/Open source

Which cameras do you support?

With the Kerberos Open source agent we are supporting: USB cameras, Raspberry Pi cameras and IP cameras (MJPEG, RTSP/H264). To make this work Kerberos Open source will do encoding on the CPU and GPU if running on the Raspberry Pi (broadcom drivers).

For Kerberos Enterprise agents we only support RTSP/H264 encoded streams. Thanks to this we do not have to do any encoding and we can build a more scalable solution.
Hub

How is Kerberos Hub licensed?

The Kerberos Hub is a fixed monthly fee independent from the number of cameras of sites. You pay per installation on our private cloud, or get an unlimited license for on premise deployment.
Vault

Can store recordings on my own storage?

Yes, that's the reason why we have build Kerberos Vault in the first place. We want our customers to persist their recordings wherever they would like them.
Enterprise

Is Kerberos Enterprise suite licensed per camera?

The agent is completely free of charge and can be installed without license. So you don't have to pay for any camera.

A license is required when you start storing recordings in Kerberos Vault, and/or want to visualise and manage your recordings, cameras and sites through Kerberos Hub.
Vault

Can I have Kerberos Vault in multiple regions to improve latency?

Yes, 100%. Within a single Kerberos Vault you can create multiple providers. Each of those providers (AWS S3, GCP, MinIO, etc), might be stored in a different region.

Depending on where the agents are located, and the end users monitoring the recordings or ml pipelines evaluating them, you might need to store them in a closer region.

With Kerberos Hub you can assign a specific site to a Kerberos Vault, so the best latency can be guaranteed.
Enterprise/Open source

What is the difference between Open Source and Enterprise?

The answer is scale. Kerberos Open Source was initially developed to be a low cost, DIY, video management system accessible for everyone. Kerberos Open Source works great and our community loves it, but it doesn't bring the scale you are looking for.

Due to this the Kerberos Enterprise suite was developed to overcome scale, but also allow customer to store their recordings wherever they want, and have a scalable UI to manage, monitor and scale their surveillance landscape.
Hub

Does Kerberos.io has livestreaming capabilities?

Yes livestreams are visualised in the Kerberos Hub solution. When using Kerberos Open Source you will see a low resolution stream (JPEG), when using the Kerberos Enterprise agent you will have high resolution streaming using WebRTC (on top).
Enterprise

Does Kerberos Enterprise run on K3S?

Yes, it can both run on Kubernetes (K8S) and on K3S. The installation might be slightly different as in K3S you already have the Traefik ingress build in.
Sorry, no questions found
Try searching for a different phrase or use the topics filter to narrow your request. If you don't find what you're looking for..
Contact us
Need assistance?
Browse Docs or reach out to our community or Enterprise support
Documentation

All the features and guides in one place
Community Support

Reach out to our Reddit community
Enterprise Support

We're here 24/7 for your needs